Saunas have been an integral part of various cultures for centuries, popular for their health benefits as well as a meeting place for friends and a rendezvous for the rich and the powerful to discuss politics and business.
While the traditional saunas were special rooms that used heated stones, technological advancement today makes it possible to enjoy the benefits of a sauna in a more simple form but just as effectively. While earlier the room had to be prepared for the purpose, today a flick of the switch is enough to create the desired effect.
Yes, infrared (IR), a type of electromagnetic radiation, has made it possible to enjoy the sauna effect even inside the house and without any fancy cabinets or rooms!
The Different Wavelengths
The infrared just beyond the red in the rainbow comes in wavelengths ranging from 780 nm to 1000 μm. That from 0.78~3.0 μm is called near infrared (NIR), 3.0~50.0 μm is called mid-infrared (MIR) and 50.0~1000.0 μm is the far-infrared (FIR) according to the ISO 20473:2007 standards.
It has been found that IR imparts several health benefits, such as improving skin tone, healing wounds, photo prevention, relief from pain because of stiffness and fatigue, ankylosing spondylitis, potentiate photodynamic therapy, treating ophthalmic, neurological and psychiatric disorders. It can also stimulate the proliferation of mesenchymal and cardiac stem cells, thus improving cardiac functions, the blood flow and also regulating the functioning of the other parts of the body.
Near Infrared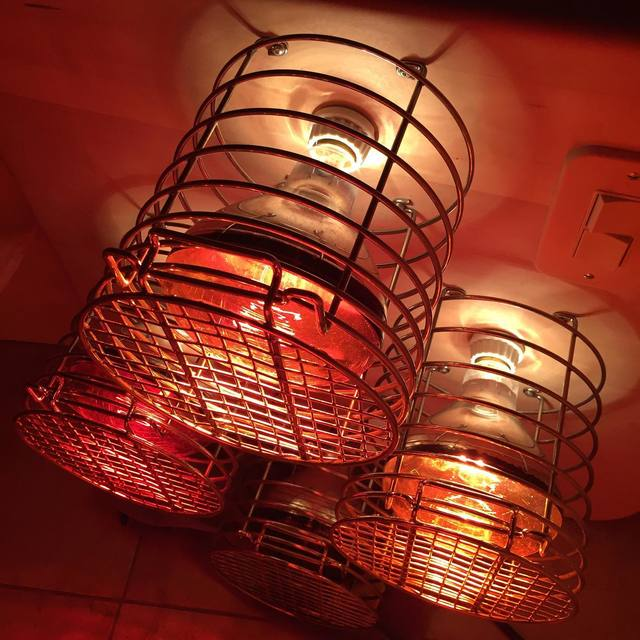 Among the three types of infrared, far and near are the two that are most commonly used. It is believed that the near-infrared wavelength has the greatest tissue penetration capability of up to 5 mm while that of far infrared is only about 0.1 mm to 0.2 mm. Near-infrared wavelengths also impact mitochondrial signaling in skin cells and is used for non-invasive blood glucose and hemoglobin testing.
Exposure to NIR increases the heart rate due to thermal stress which enhances the performance of the cardiovascular system. The resting heart rate doubles and there is a 70% increase in cardiac output. Peripheral circulation increases due to a 40% decrease in peripheral resistance, which allows for increased. This further improves the heat exchange through the skin (with diaphoresis) and consequently reduces circulation to muscles, kidneys and viscera. While diastolic and arterial blood pressures decrease, there is a corresponding increase in metabolic rate and O2 consumption, just like when you do moderate exercise.
Reviewing SaunaSpace Saunas
There are many more benefits of near-infrared rays but not too many saunas that leverage it. One of the most popular brands in this category is SaunaSpace, which has made it really easy to accommodate the sauna even in small spaces by making it portable.
Thoughtful and Handcrafted
The first thing that is impressive about SaunaSpace products is that they are handcrafted designs but leverage automated production technologies for keeping pace with the demand. They follow lean production processes, which means that they avoid wastage. By selecting materials that are natural and easily available, they are also able to price it reasonably. What's more, the raw materials are sourced in America, the design happens here, as also production, thereby ensuring quality and cost and time efficiency.
The five pillars of their business that are really reassuring for a customer are:
Craftsmanship: They personally ensure the quality of the wood and textile parts they receive and craft
Usability: They are designed for ease and comfort
Aesthetics: Sleek and minimal, they are a conversation piece even when not in use
American Made: They have a facility in Columbia, Missouri, so you can rest assured about the quality
Guarantee: A 100-day product trial is all you want to know the products are good and suit your needs
Affordability: By using technology and lean principles effectively, the company is able to keep the costs low and pass the benefits to its customers
What we really liked is SaunaSpace's uncompromising approach to quality. They decided to create a dedicated clean textile production area and employ trained sewing machine operators when they couldn't find a textile mill that could provide them with the sauna covers the way they needed it.
The Products
SaunaSpace has two portable saunas:
Besides these two, you can also get:
Tungsten
Photon
ThermaLight Bulb
Standard Heat Lamp Bulb
Faraday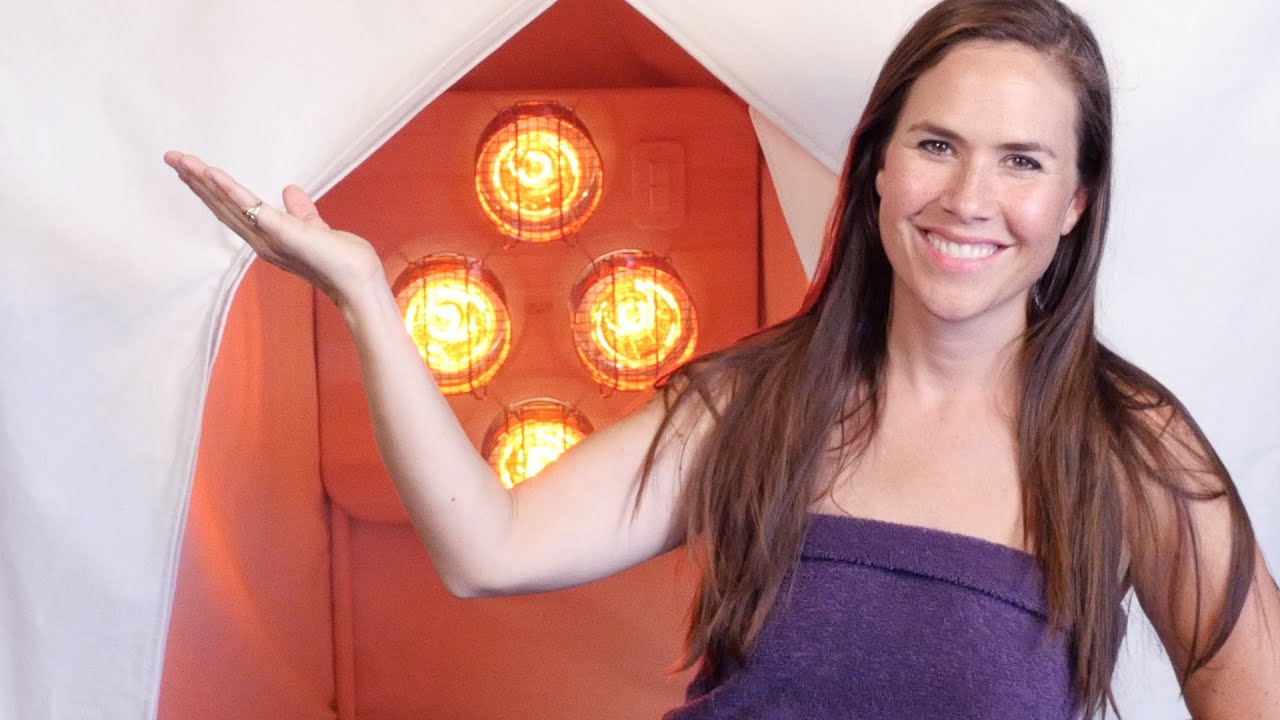 Currently available is the second-generation model of Faraday, an improved and more affordable version of its previous portable sauna model by the same name. It provides even better 5G-rated EMF protection and comes with a new grounding mat that ensures safety with good earthing.
Its bespoke stainless-steel 5G-rated RF shielding system is third-party tested up to 40 GHz and assures customers of 69x shielding protection.
Further, the stainless steel conductive shielding fabric shields up to 80 dB, tested from 1-40 Ghz. It also protects users from low-frequency wired EF that is common in all homes because of the six-sided system being grounded to the Tungsten Panel.
Luminati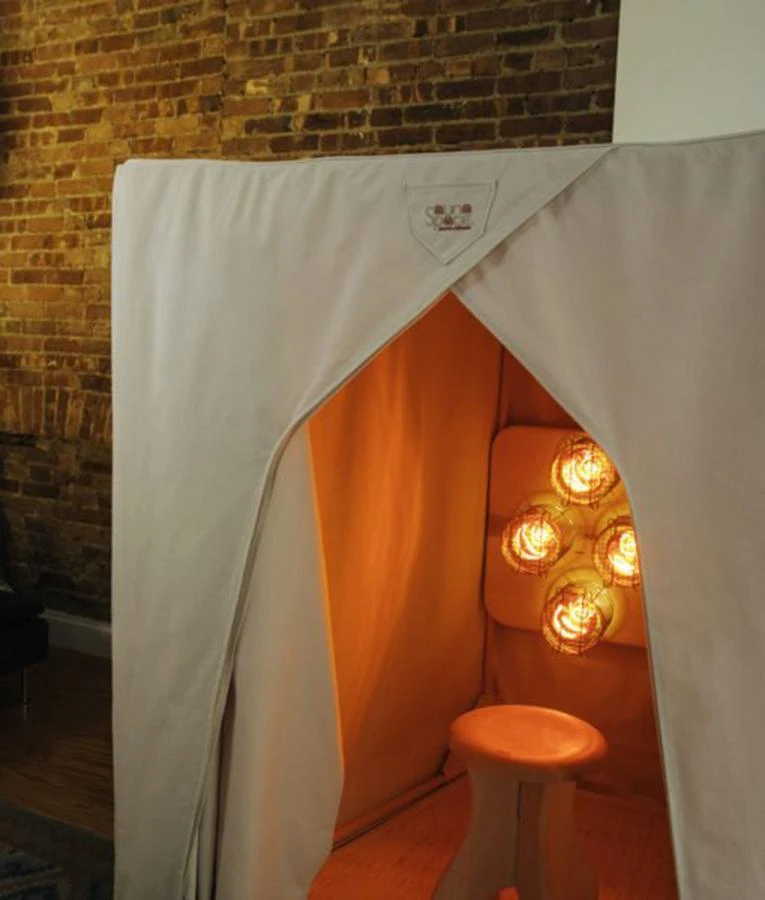 Formerly known as the Pocket Sauna, the new version comes with SaunaSpace's trademark ThermaLight technology and promises the full-spectrum of healing along with detox wavelengths. If you are looking for mitochondrial stimulation, then this is the model to go for as it promises therapeutic grade near infrared up to 89 mW/cm2 irradiance. Zero EMF is an added assurance that makes you feel safe.
Features
Both Faraday and Luminati come with the following features:
Organic Canvas: Made of 100% hypoallergenic cotton that is sustainable, ethical, durable, beautiful and machine washable.
Bamboo Unvarnished Slatting: To retain a natural beachy vibe.
Stainless Steel Shielding and Grounding Fabric: With no nickel or aluminum.
Stainless Steel Non-Off Gassing Hardware: Without powder-coating or any other treatments.
Solid Basswood Hypoallergenic Wood: Sustainably harvested North American basswood that is zero-VOC rated and which will not offgas as it is not treated with any chemicals or oils.
Being sleek, minimalist and portable, it can be easily put together or dismantled. Weighing just 55 lb, you can do it yourself and set it up even daily or as is convenient. The Tungsten Panel's height can be adjusted to let you align the lamps to your torso as recommended. You can even sit on the floor and lower the panel.
In addition to that, the light panel comes with a three-switch control. This gives you the flexibility to control the row of lights and switch any one of them off if you are sensitive to heat. You can begin by using one or two bulbs and then increase it to all four lamps.
You can also opt for their comfortable and contoured stool for rotation purposes to maximize the sauna benefit. But that's not a must and even a wheelchair can be accommodated in this compact sauna.
Tungsten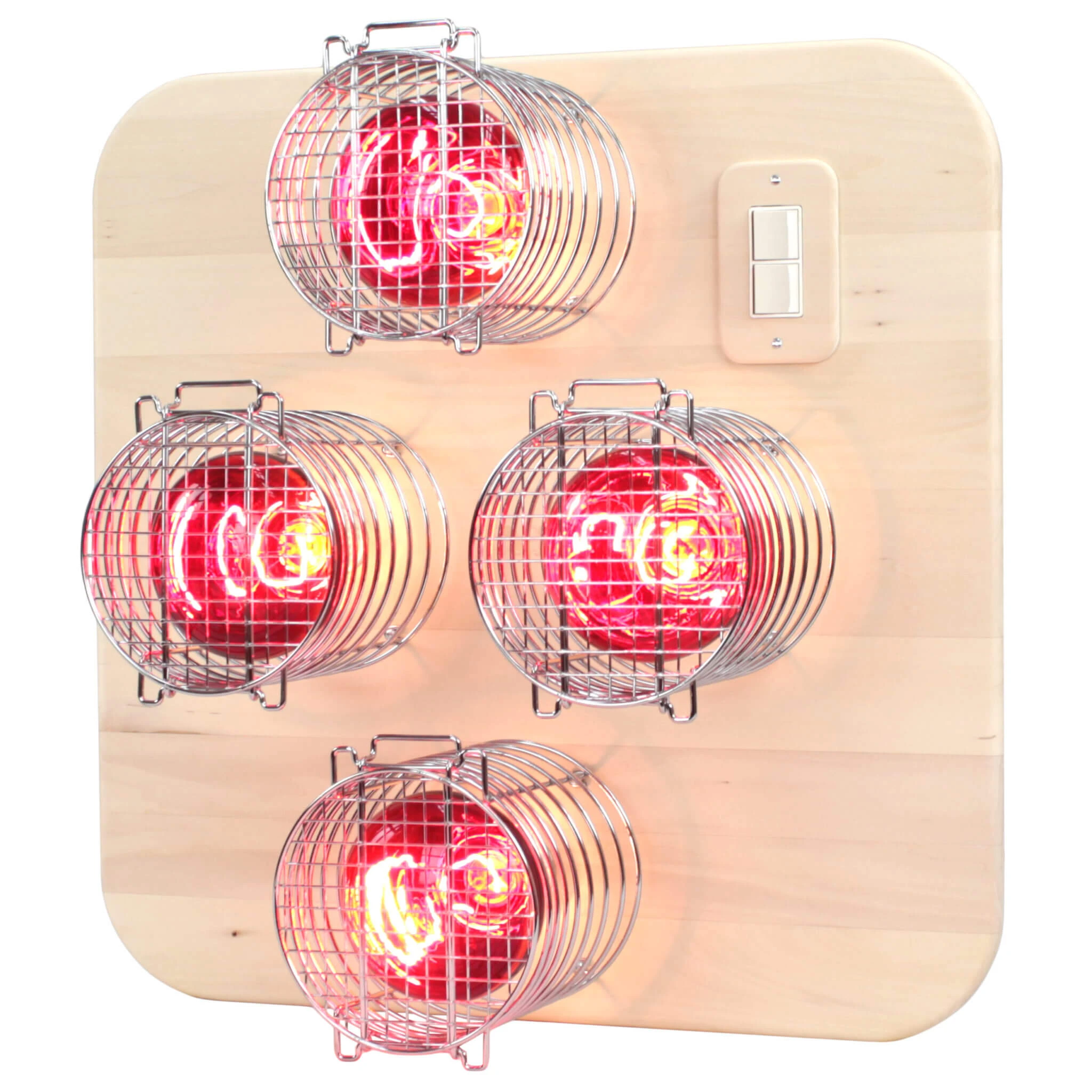 If you already own a far-infrared (FIR) sauna that emits high EMF, don't be disheartened. SaunaSpace also offers Tungsten, formerly called as the 4-Light Panel, with which you can convert it to a safer NIR.
The red-filtered incandescent light features SaunaSpace's ThermaLight technology ensuring a broad spectrum of healing and detox wavelengths. It uses only handworked and hand-polished basswood components. The stainless steel hardware is robotically-welded for durability and reliability.
The rigid stainless steel lamp guards prevent off-gassing and the encasing ensures that even small fingers do not accidentally light the bulbs.
The panels have been tested with the Geovitals EM Field Probe and authenticate SaunaSpace's claims of zero EMF. Stringent implementation of quality assurance measures ensures the longevity of the product, making it a real value-for-money product.
Photon and ThermaLight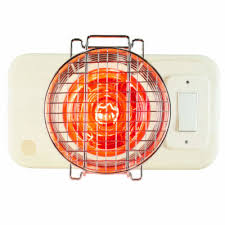 The ultra-portable Photon is ideal for targeted incandescent light and heat therapy that can be carried discreetly to work. It can also be used for enhancing the quality of indoor lighting, to make it look more natural.
SaunaSpace's red-filtered incandescent light featuring its ThermaLight technology is a unique near-infrared incandescent bulb designed entirely for its health benefits. The mouth-blown process is used to shape the outer red-stained hard glass which contains a custom-made tungsten filament delivering 2-4x more red and near-infrared irradiance than the others in the market.
For Health and Happiness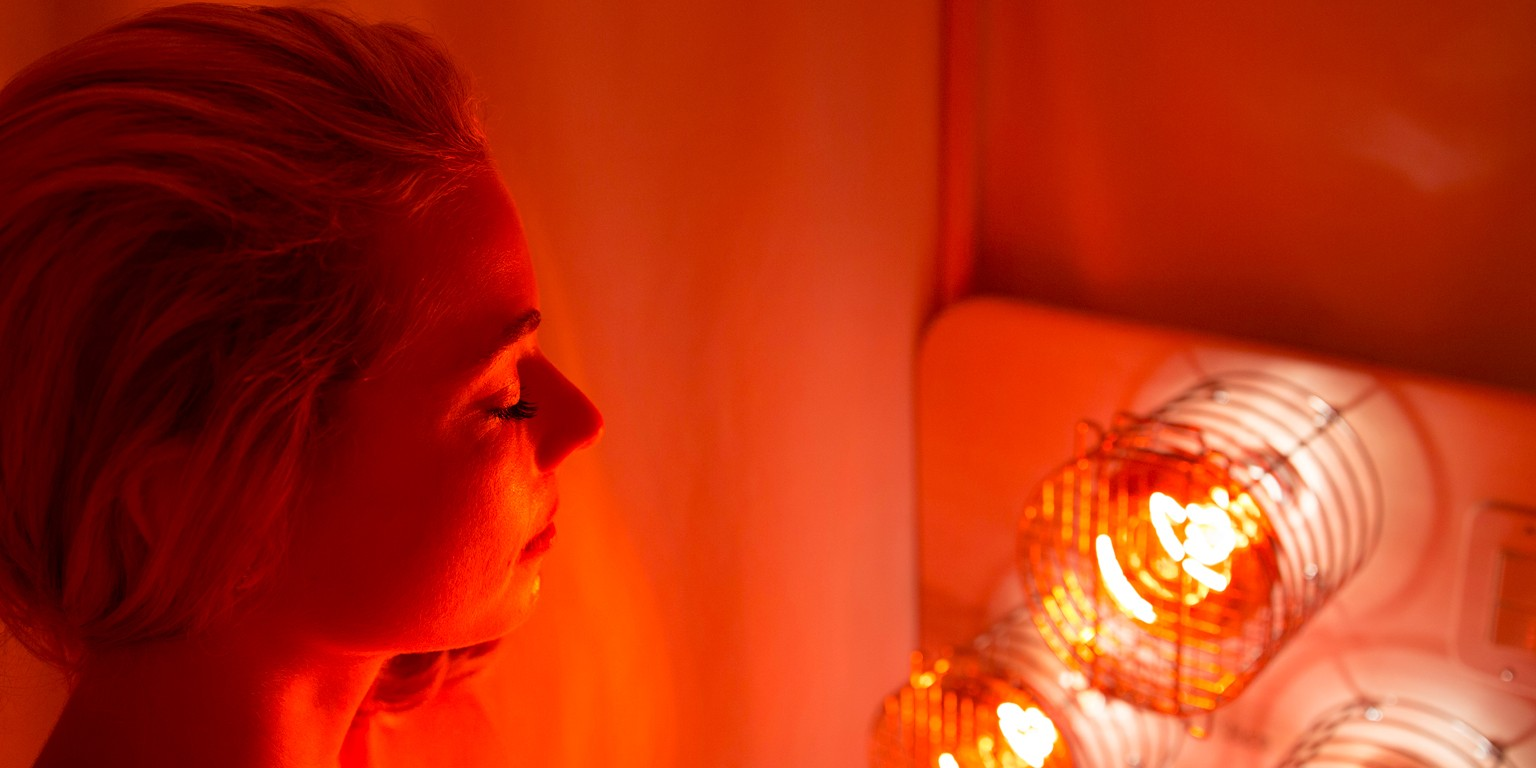 There is no denying the fact that health is wealth. While nothing can replace a good diet and exercise, in a world filled with stress, a SaunaSpace portable sauna is a good product to have in our corner.
It is easy to purchase, set up and use. You can opt for a 100-day trial and return if you are dissatisfied. But we believe you won't have reasons to. The products are hand crafted and hand designed with a lot of thought and effort going into the sourcing of the materials.
The adjustable light panel, the three-switch control and the encasing of the bulbs show the company's understanding of safety and convenience. We also liked the rotating stool, which lets you expose your entire body to the light by turn.
The testing and quality assurance processes are other aspects that reinforce trust in SaunaSpace products. The pricing is also competitive and definitely value for money.
If this is your first sauna, you may want to go slow with exposing yourself to the NIR to let your body get used to it. Start with 20 minutes of exposure to one or two lights and then gradually increase the duration and intensity.
Infrared works a little differently from traditional saunas in that the light penetrates the skin and not heat. So you will not find the temperature itself to be too high. We recommend that you get your SaunaSpace Sauna and have sauna exposure twice a week. See your stress evaporate and other health parameters improve.